PROFESSIONALS
OurChildInfo.com is a secure, private, website for two parents to communicate about their child. It is the "written notice" from any Parenting Agreement. Posts cannot be deleted or backdated. A chronological, permanent message exchange which supports documents and photos. Each parent can post an update, document, or photo consistent with parenting agreement requirements. It enables parents to follow the terms of a Parenting Agreement and eliminates the "he said/she said." Civil communication is encouraged as posts are time-stamped and cannot be deleted or backdated. Either parent can download a log file that contains the complete chronological transcript of all their communications, documents, and photos exchanged. Download a one page flyer.
Judges
Reduce repeat court appearances. Assign parents to communicate and exchange documents exclusively through OurChildInfo to have a clear record should they return. It will facilitate all communication, or reveal the lack thereof. It preserves requests, responses, and/or the avoidance of a response. The financial burden of re-hiring an attorney to enforce common communication obligations is often economically impractical. A central online communication service that is the verifiable "Written Notice".
Simplified copy-and-paste Order language: "Both parties are ordered to use OurChildInfo.com as their exclusive means of communication between them to discuss and document parenting issues."
ORDER for Online Communication .pdf
ORDER for Online Communication .docx
Court Clerks
The Clerk's management of the courthouse often includes hearing parent's complaints about the other parent. If a parent has ever taken Clerk's office time to explain what the other parent was supposed to do, should have done, could have paid, did not pay, did not provide, etc., advise the parent to take it online, to OurChildInfo. Reduce repeat office visits and save office time. Email [email protected] and request free cards to give to parents.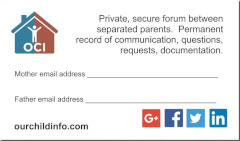 Attorneys
Common sense communication regarding education, health, religion, or extracurricular, often devolves into intentional miscommunication between separated parents. Most family law related post-trial contempt petitions are based in miscommunication. The client can prove that information was provided, and is protected from an accusation that information was withheld. Clients will have a resource for proof of all their parenting obligations. Should court become necessary, they will have a clear, complete, chronologically merged, dated, time-stamped history of all communication.
Letter to clients: "OurChildInfo.com is a site specifically devoted to communication by parents during and after a court case ends. It is designed to avoid the time and expense of the court process in the future as it preserves posts by both parents and no posts can be deleted or backdated. When one parent signs up, the other parent gets an automatic free account. That site will be helpful to you now and in the future."
Language for any Parenting Agreement: "Both parties shall avail themselves of the benefits of www.ourchildinfo.com. This site will preserve a written record of communication, questions, and requests between parents. It can be used to exchange any other information necessary or required for both parties to exercise and implement the decision making and parenting time obligations within this agreement."
Mediators
OurChildInfo.com, as a private and secure repository of all posts and documents shared between two parents, provides a resource from which to follow any Mediation Agreement. Parents use it to exchange, medical information, grade reports, photographs, sports and work schedules, and anything else necessary. It will eliminate claims of being uninformed and provide a single location to communicate directly to the other parent. The inability to delete will create civility.
Download a One Page Flyer for reference and distribution